Today, many individuals and companies are developing and releasing apps to expand their business or get something innovative to the people with a great app idea. But no matter what the reason is, developing an app is a process that generally has to be started from scratch and needs the right platform for mobile app development. One can find many app development platforms for their app ideas, but the one that has evolved remarkably and is the most preferred by developers is Xamarin. Its popularity is its cross-platform portability, i.e. its provision of integrating an app to all three major mobile platforms, including iOS, Android and Windows.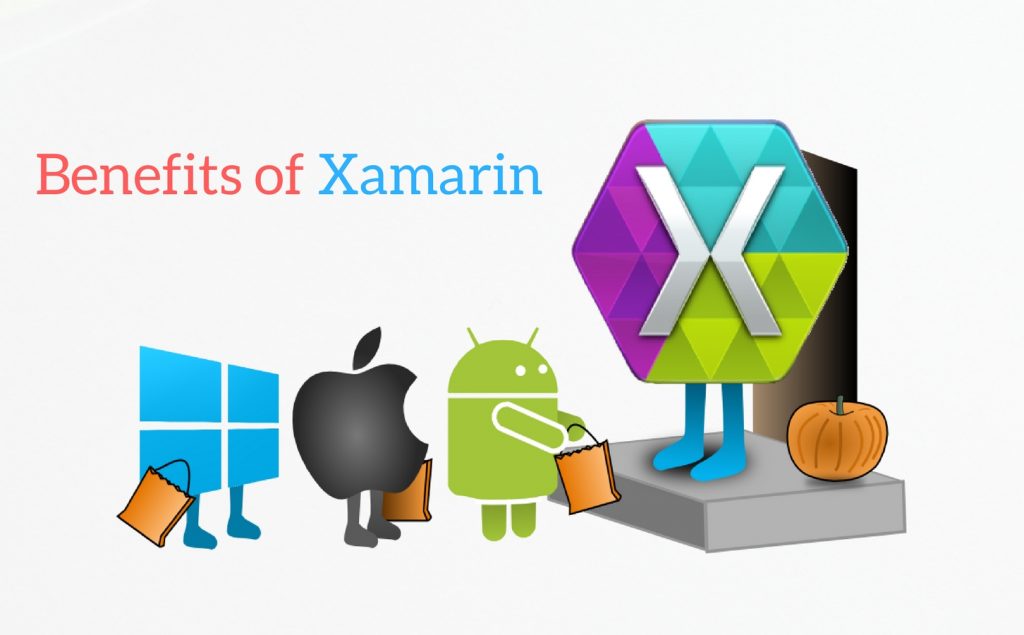 Xamarin has three critical elements, including the Xamarin platform, Test Cloud and Xamarin Insights where:
Xamarin Platform provides code APIs, code samples, runtime engines and virtual machines.
Test Cloud provides app testing automation on thousands of real devices in the Cloud.
Xamarin Insights tracks app crashes and exceptions, enabling the developers to identify the real-time app experiences of users.
That being said, let's look at some more benefits of using Xamarin Cross-Platform App Development for a business:
Single Source Code:
Developing apps for different OS platforms requires writing codes for them. For example, Android App Development requires Java, and iOS requires Objective-C and Swift, while Windows requires C# or VB.
Well, Xamarin only uses C# language comprising of concepts such as links, generics, tasks, etc., and excludes the usage of these three different languages. Here, codes can be written in the required IDE, which has turned out to be quite productive.
Native look and feel:
Xamarin provides a native look and feels given that Xamarin IDE enables coding in C#, which takes part against Objective-C, Swift and Java prototypes. Thus, one can avail of native UI access to device-specific hardware and OS-specific software features.
Supports a Component Store:
Addition of high-grade elements to the app directly from the Xamarin IDE along with the integration of back-ends such as Microsoft Azure, Salesforce Parse, SAP, etc. Also supports encryption and authentication.
Xamarin.Forms:
Xamarin.Forms enable building user interfaces that can be shared across Android, iOS or Windows, including more than 40 layouts and controls. In short, Xamarin is a resource and time saver for cross-platform app development, which simplifies the development of similar native UIs for different platforms.
With Xamarin Test Cloud, one can directly detect the app's flaws and bugs in the cloud.
Offline App Support:
Xamarin's cloud feature enables enterprise apps to work in remote areas with no internet connection, i.e. they can even work offline.
MVC and MVVM patterns compatibility:
Xamarin MVVM uses the same code base for developing different projects, and MVC allows the developers to keep the app logic and layout separate, thereby boosting the app development process.
Extensibility:
Xamarin presents developers to choose from myriad components to customise their apps and outcome.
API Integration:
Uses Xamarin.iOS, Xamarin.Android, Xamarin.Mac, Xamarin.Windows possess similar elements to native platforms for binding.
No Extra Plug-ins:
Apps can be built without extra plug-ins and Xamarin's standard UI controls to enhance user experience across different mobile platforms.
Cost-Effective:
As Xamarin excludes any possible investment for distinct development infrastructure for iOS, Android and iOS, it is, without doubt, the title holder for a cost-effective app development platform.
Hence, the earlier features make Xamarin a safe, reliable, and cost-effective app development platform for developing iOS, Android, and Windows apps.