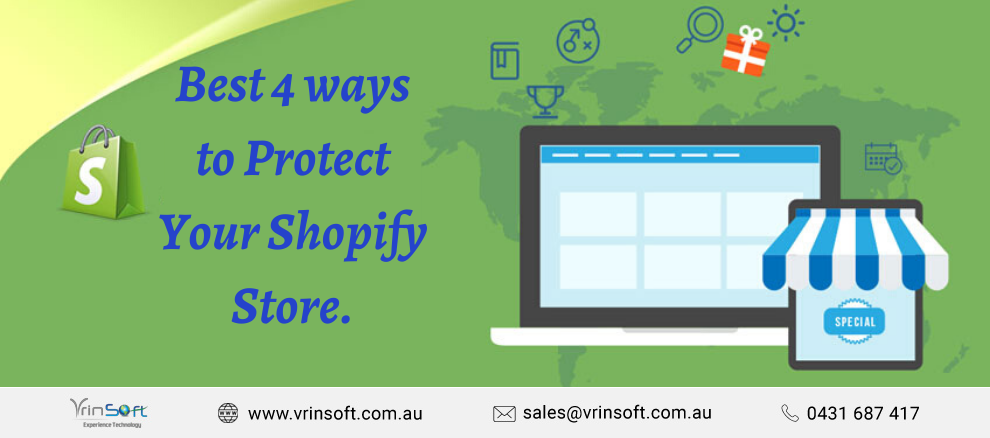 Some of the most well-known Shopify merchants have lost a great many dollars, clients, and deals because of avoiding security. We have listed down the top security applications for your Shopify store so you can keep your secured and safe.
If you are a Shopify Developer or expert then it's very important to consider the security of your online store and your customers. With regards to client security, Shopify ensures traders and customers by making each store automatically PCI compliant. Individual store security is an alternate story. Both Shopify and you, the merchant, share the duty of ensuring your store. Shopify verifies the product software infrastructure and disaster recovery of the entire platform. Shopify traders are answerable for secret password security, third-party applications, and backup of your store data.
1. Locksmith
Locksmith is for access control, on your online retail storefront. Locksmith's capacity originates from a super-adaptable yet super-basic thought: locks to secure your content, and keys to give various individuals access.
When you've locked something, use keys to grant access if the customers:
• Has a precise tag
• Is signed-in
• Gives precise passcode
• Arrives via confidential link
• Doesn't have a precise tag
• Has many email address
• Has purchased a particular product
• Is visiting from a certain country
• Someone visiting after or before a certain date and time
• Has a precise IP address
Features of Locksmith
• Access control for everything
• Simple setup
• Supports that loves you.
Locksmith has 15 days of free trial and then the charge is $9/month
2. Rewind Backups
Rewind Backups automatically for Shopify and Shopify Plus store. Rewind is the least demanding approach to back up your Shopify store and fix undesirable changes. Get peace of mind realizing that your most significant store information is naturally upheld by Shopify's first-class backup apps.
Consistently, Rewind backs up a great many things for merchants of all sizes. From little shops to Shopify Plus stores like Endy, MVMT Watches, and Gymshark.
What Rewind Backups?
• Products images and products
• Customer base
• Orders and collections
• Blog post and blogs
• Pages
• Themes files
• Menu navigation
• Policies of store
• Locations
• Shipping section
• Gift cards
• Saved searches of customers
• Metadata ( for enterprise)
Features of Rewind Backup
• Daily automatic backups
• Get peace of mind
• The support you want
Rewind backup has 7 days free trial and then it charges $3/month
3. Cozy AntiTheft
Cozy AntiTheft encourages you to secure your store content, pictures and messages from being taken with a couple of basic clicks.
Features of Cozy AntiTheft
• Deactivate Right Click – Cozy Anti-Theft deactivate the right-click – a window of stealing. This way keeps clients from replicating the content just as saving the images.
• Deactivate Drag Drop – Cozy Anti-Theft forestalls the taking of the images with a great drag-drop trick.
• Deactivate Keyboard Shortcuts – Cozy Anti-Theft guarantees that the client can't utilize keyboard shortcuts ways to duplicate the content.
• Mobile-Friendly – Cozy Anti-Theft works on both mobile and desktop.
Cozy Antitheft is free to use.
4. Vault Content Protection
Vault content protection protects your store legally against competitors. Shopify experts in Australia mostly prefer to have vault content protection to protect the content of the client's websites. Content is the king of your website any competitors can copy the content of your website and say it's their content. Thus this can lead to a lower SEO score for your website. So always download Vault content protection.
Features
• Desktop and Mobile Support: Choose various protections for various customers
• Ensures Images: Disables right-click, "Save As", drag/drop to spare
• Secures Text: Disables copy-paste, featuring, and setting menu
• Disables Keyboard Shortcuts: Disables spare page, reorder easy routes
• Incapacitates "Save As" and "View Source" Menu
• Logs a Custom Legal Notice
• Worked In Protections for the JavaScript Developer Console
Vault content protection is free to use.
Shopify plus partners in Australia will always take the measure to secure your Shopify store. By taking safeguards to run a secure online store. It is very essential for enterprises to look after all such secured apps so that it saves their money, effort, and time.