Best strategies for Outsourcing Software development
Post date: 03, Jun 2019
Software is the most important component for Technologies such as artificial intelligence is helping organizations to be more productive by automating existing processes. Though automation is replacing the old process, human beings will always have an important role to play. Once Marc Andressen quoted, "Software is eating the world."However, to build the team of software engineers who can build such innovative software is not an easy job.
Today regularly optimizing operational efficiency, enhancing customer service, and bringing new products & services brings competitive edge to the market. Now a day, Success depends on using software as a competitive weapon. To achieve all these things, we need a right team for Custom Software Development in Melbourne to ensure the product's quality which are aligned with overall business goals and objectives.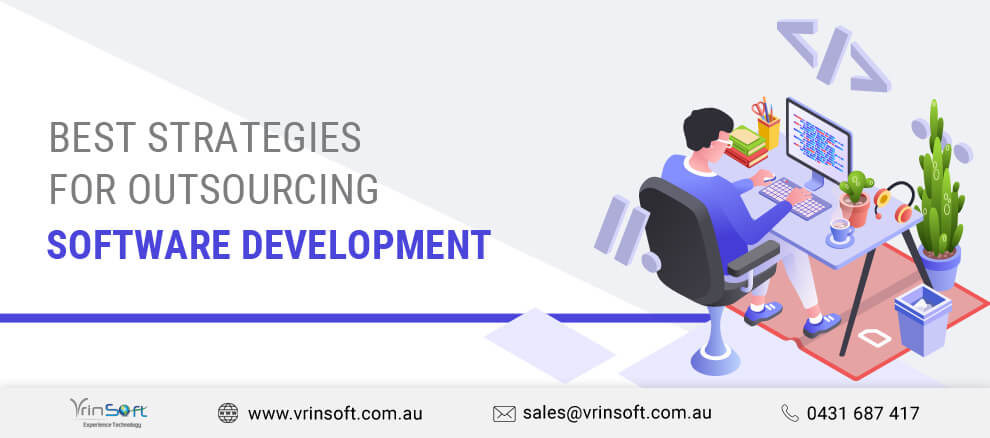 Companies prefer to outsource software development in order to focus on their core strategy. Outsourcing the software development in Melbourne not only reduce operating costs but also helps improving service, scale up and leverage external skills and talents. Outsourcing gives entrepreneurs access to a greater pool of talent and low-cost labor.
The list of best strategies for Outsourcing Software development are as follows:
Define Outsourcing Goals and Scope:
The most important reasons projects fail is "a lack of direction and unclear goals".Proper defined goals help to find the right team for the job and increase chance of achieving success. The companies always need to have clarity on which business function that they need to outsource i.e. Application development, System Integration or Data Base Management. Company must define both short-term and long-term requirements.Improper scope, goals, roles, and responsibilities may seem like blind leading a blind.
Choose the Right Partner  
The Companies should invest their quality amount of time to select software partner which can help them to meet their company's goals. The software partners must have key measures like domain expertise, Project portfolio andgood client feedback.At this stage, companies will have to compile a list of software tools that seem to fit their business's goals.
The things need to keep in mind for finding the best software companies are:
Good Technical expertise and subject authority
We defined Business policy
Consistent over Efficiency
Strong control on business logic command
Focus on Value over Cost 
Outsourcing doesn't mean that it will save cost or cheap way to offload the work. The main focus should be on optimizing the business which serves their business need and saves their time. The research says that the value is the difference between the price charged and the benefits the customer perceives.
Create or prepare an in-house Team:
Not all roles are right for outsourcing, and not all roles need to be full-time in-house hires either. Companies must do their management and organizational structure changes during an outsourcing engagement. The in house employees are well aware about their companies' vision and software requirements. They are the right resources to give appropriate guidance to the outsourced company They should be comfortable to work closely with new remote colleagues. The team should be trained to work with remote teams, Possible communication model, the tools for collaborative software and project management.
Define a Communication Model:
Over the period of time business goals may change or evolve. It is very necessary to establish a proper communication model which can discuss the goals with outsourcing companies. The different types of communication model are video conferencing, messengers and regular meetings with the offshore team.
Apart from all the above points, Companies must also make sure that the outsourcing companies follows the agile methods to build final software.
Conclusion:
There is no "one size fits all" approach when outsourcing software development activities. Companies must select correct outsourcing companies to grow and evolve their software, in an increasingly competitive environment. Companies should always try to eliminate outsourcing mishaps and reap the benefits of having a strategic partnership. Outsourcing ensures quicker, cheaper, and easier development of technology products but it also carries risks, and defining a strategy for outsourcing needs a successful roadmap to the business goals.
More Resources:
How Much Does Custom Software Development Cost in Australia 2020?
Tell us your Queries, We are Listening
Get In Touch
Estimations & Planning for Business Decisions