Website navigation can either make or break your visitor's experience. After all, navigating a site without a logical, well-defined structure is like being dropped in the middle of a complex confusing map and no frame of reference. It's disturbing, frustrating, and all-around unpleasant – not exactly the effect you're looking for.
Despite that, creating a good navigation system is easier said than done. That's why we've come up with ways you can help users find their way. They'll turn a likely negative experience into a great one.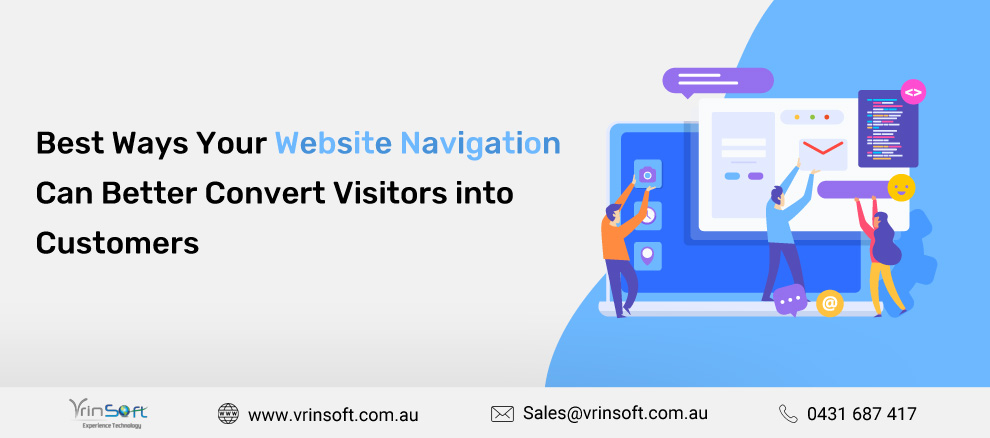 1. Replace the Drop-Down Menu
When the options in your drop-down menu are quite complex, unfamiliar, or extensive, consider replacing them with a detailed page. Usability research shows drop-down menus are annoying; also, you'll need to sacrifice valuable information to make everything fit. Instead of forcing all of its products into a drop-down menu, it's showcased them on a menu page. The assisting visuals make finding the right option a simple task.
2. Make Searching Frictionless
People who run a site search convert nearly two times more often than people who don't.
It makes sense, Visitors who use search regularly have the intent to buy or act. Also, they're much likelier to find what they're searching for.
With this stat in mind, make searching as frictionless as a possibility one could. You could make your search bar sticky.
Anyhow, sticky menus can be distracting. If you want the benefits of site search without the possible drawbacks, opt for making your search bar prominent on the page, like Target:
3. Provide Context
To help visitors find the right page without expending a single click, put in clues within your drop-down menu. A clue may be a handy icon, a visual, or another helpful piece of information.
4. Create Separate Menus for Different Audiences
It's always difficult to design an interface that caters equally to two distinct groups. To make sure each one can find what they want – without having to dig through irrelevant content – divide your links into two.
The Muse, for example, has two audiences: job-seekers and employers. The first four links in the top navbar target job-seekers, while the fifth redirects companies to their own section of the site. The link is grey, not white, to indicate that it's distinct from the others.
5. Add a Fat Footer
Navigational frazzle is definitely a real thing, and when your site has a complex hierarchy, users quickly get exhausted from expanding sub-menu upon sub-menu.
Fat footers are an optimal solution. They provide a bird's eye view of your site, so people can quickly focus on the page they're looking for.
6. Choose Your Menu Order Strategically
Thanks to the serial position effect, which displays people have the greatest recall for the first and last items in a list.
You can take benefit from this effect in your navigation design. To drive visitors to your most important links, put them at the beginning and end of your menu.
7. Make Your Navigation Bar Dynamic
To drive your conversion rate without using up valuable real estate, make your navigation bar dynamic.
8. Say 'No' to Format-Based Navigation
Photos and Videos are format-based navigation labels. They tell visitors only the format of the content and not the topic. A site with descriptive navigation is much easier to use than format-based navigation.
Keep in mind, visitors don't go to a website in search of photos or videos. They visit a site to get information and answers.
9. Say 'Yes' to a Mobile-Friendly Site
Competition is getting tougher to make service easier.
Statics website is being replaced by mobile-friendly responsive design. Google also drains sites without certain mobile-friendly features.
A mobile-friendly site is a way to make it easy, for visitors' to experience our site. So, make your website easy and engaging to navigate on a mobile device.
The easier and more engaging your navigation experience is, the more time users will spend on your site. Engage the right audience on Google to drive your sales & conversions, hire us to get the Best SEO service in Melbourne.