Blueprint to Finding Your Perfect Companion for Digital Marketing in Australia
Post date: 25, Aug 2020
For a business apart from generating profits and creating innovative strategies, it is also important for them to have a strong customer base. This however isn't easy to be done solo making it necessary therefore to depend on digital marketing services in Melbourne.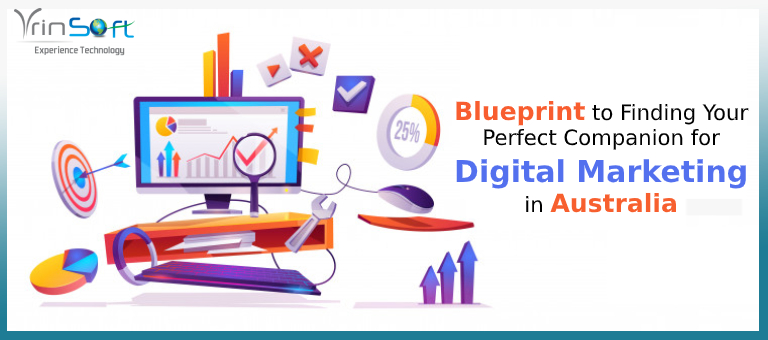 This helps in getting an insight into the ideal strategies that need to be followed to perform this task and gain more return on investment.
Some other tasks performed by hiring an enterprise are listed below.
Key Tasks Performed by a Digital Marketing Company in Melbourne
When you hire a digital marketing agency in Melbourne for your online marketing campaigns some key tasks get performed by them. This includes –
Performing strong market research in order to support you in creating strategies that accelerate the competitive edge.
Installing Tracking & Analytics Tools to help you analyze your goals and marketing results in a framed manner.
Planning and creating engaging content that supports in driving traffic exponentially for you.
So you see, in short, they have an exceptionally important role to play in helping businesses build a strong online presence.
It is however recommended to follow some suggestions when you set out on the quest to find a digital marketing company in Australia. Read the points below to get an idea on the steps that when followed will support you in performing this task really well!
Pointers to Determine the Best Digital Marketing Company in Melbourne
Online Presence
It is first and foremost very necessary you perform thorough research of the digital marketing agency in Australia. This includes examining the presence of a website, going through the reviews they may receive from miscellaneous media sites, apart from their posts on social media and newsletters they send to communicate with customers. All of these will support you in identifying the right company for this task.
Expertise across Various Digital Channels and Platforms
The second very important point to be taken into strong consideration is to examine the overall expertise of the organization across miscellaneous digital channels and platforms. This includes managing Google Ads and planning and creating SEO and local SEO strategies. Analysing these areas will help you choose the perfect organisation to help you gain a competitive edge.
A Proactive Approach
The third main point to consider is to analyse if the organisation you are hiring has a proactive approach or not. In other words, they should be successful in providing you with strategies to support you for the future in the best possible manner. Here's how you can find this out –
Committed to forward-thinking and strategic planning
Driven to build a strategic plan at least once in a year as per your company goals and needs
Provides a clear display of your current position and give suggestions on building a firm base
Possesses good knowledge of competitive analysis to help you mitigate and handle risks well.
When all these criteria get fulfilled you can be assured that the organisation you hire for this task has a positive and future approach towards your business thereby supporting you in gaining a strong user base.
Reviews
Lastly, it is recommended to go through the reviews from Google My Business, online directory listings, and client testimonials. This is an extremely important area to go through along with the expertise and certifications as this will help you form a sound decision about the organisation you are going to work with and determine the genuineness of their work.
In summation, these are some key pointers that you should look for before you select a company for your digital marketing services in Australia. This will promise your work done through genuine professionals and gain a good competitive edge, customer base, and a strong online presence.
Tell us your Queries, We are Listening
Get In Touch
Estimations & Planning for Business Decisions