The mobile application industry is trending. It continues to grow as mobile devices have become the centre of communication and work. It is important to select a reliable, responsive, and experienced mobile app development company. Every small and big company needs a mobile application for their business. The unique mobile application can help the company grow in the market. So it's a very crucial step while you are selecting the right Mobile App Development Company in Melbourne.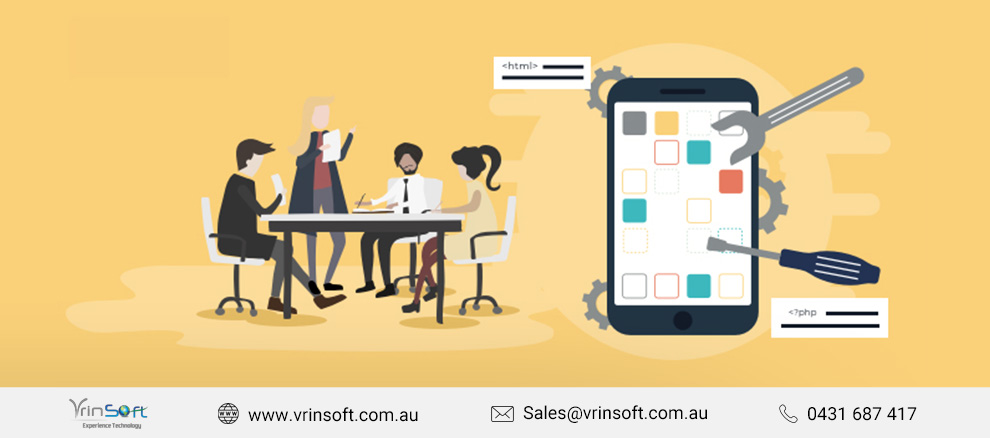 1. Local Mobile App Development Company
It's very important to select the developers within your city. Local companies will help give you quality work. In offshore development, we face problems like delays in work and coding quality that will not be so good. Timing is the biggest issue in offshore development. The different time zones make it difficult to deliver the projects on time. The rules and regulations of various countries don't apply overseas, so if you hire an offshore developer, there are chances that your personal information will not be saved.
It's tough to coordinate with offshore developers as there will be a middleman to communicate with. Phone calls and emails will help you but will not give you the results you want, like seating and having a meeting. Two people discussing together can give better results.
2. Company Size and Age
A company's size and age matter a lot. The older and more experienced company will give you reliable and unique results. The company, which is older and has good employee strength for mobile app developers, can help you with different projects like a gaming app, business apps, entrainment apps, and so on, as they have been dealing with different projects for years in Melbourne.
Also, it's not necessary that smaller companies with fewer employees are not able to deliver quality work. Fewer employees with multiple qualifications will help you a lot and will give personal attention to your projects. So, choose a developer based on their knowledge and experience.
3. Design and Development Only
Hire a different team that does only UI/UX design for your mobile application. This will help you focus on attractive and unique designs. Do not mix up with the design and development team. If your team is capable of development, then outsource the design work. This will help you maintain the cost of the company. For designers, check the UI and UX designs that they have done before.
4. Expertise in Different Application and Areas
The company should have different app developers like gaming apps, business apps, entrainment apps, educational apps, travel apps, etc. Choose a company that can work on multiple apps because it will allow the company to focus on different business models if they plan to expand in the future.
There are many developers who only work on iOS app development and they do not work on Android app development, so choose a company that works on multiple areas like iOS, Android, and Windows app development. If a company is only focused on iOS app development and if we wanted to work on multiple projects based on Android, iOS and Windows, then it's no use hiring an iOS development company.
5. Portfolio
Experienced developers can give better and more reliable results. Always check with their apps whether they are functioning or not. Development is the first step but maintaining an app is an important step for any app development, so it's necessary to check with their apps how they are performing.
Also, check the number of projects they have worked on. Since how many years they are in this industry. Check the reviews before giving the projects, check the qualification of developers whether they have enough knowledge and experience to deliver your project on time.
6. Expertise in Different Platforms and Technologies
It is very important to know whether a company is updated with the latest technologies or not. Checking their latest project will help you analyse the company is updated or not. In 2018 Python was trending technology and for apple Swift was trending technology so it's very necessary that developers are getting updated.
Now if we talk about different platforms developers should be expertise in cross-platform mobile app development. Cross-platform refers to the development of an app that can be used on multiple platforms. Some of the best cross platforms are PhoneGap, Codename One, Sencha Touch etc.
7. Clients
Checking the number of clients they were dealing with previous clients can help you understand the company's standard of delivering the projects. If they have worked with bigger brands you can trust the quality of work being delivered to you.
Also, check their previous projects done for big brands whether the app is actually working or not.
8. Pricing
Your app will continue to cost you even after development. So always take your company's budget into consideration. The simpler the app will cost you less and the more complex the app will cost you high. If the company is ready to spend, you can always spend money on the experienced developer that will give out of the box results.
The average salary of a mobile developer in Melbourne is $111,585 per year.
Choosing the right mobile app development agency in Melbourne is a big investment, so always think before you are investing. The companies that offer you cheap rates always make sure to check their previous projects, which will help you understand their quality of work. Choose a development company with whom you can make long term relationships as you need to update your website and app at regular intervals.