There is a phone in everyone's hand these days. Across the world, nearly four billion people are connected to the internet through their mobile phones. There is a wide variety of people who are willing customers for any app that you make, the only condition being that you need to make the app according to what they expect. If you are confused with which platform to make your app, this article will show you exactly the difference between Andriod and iOS where you can then make a call.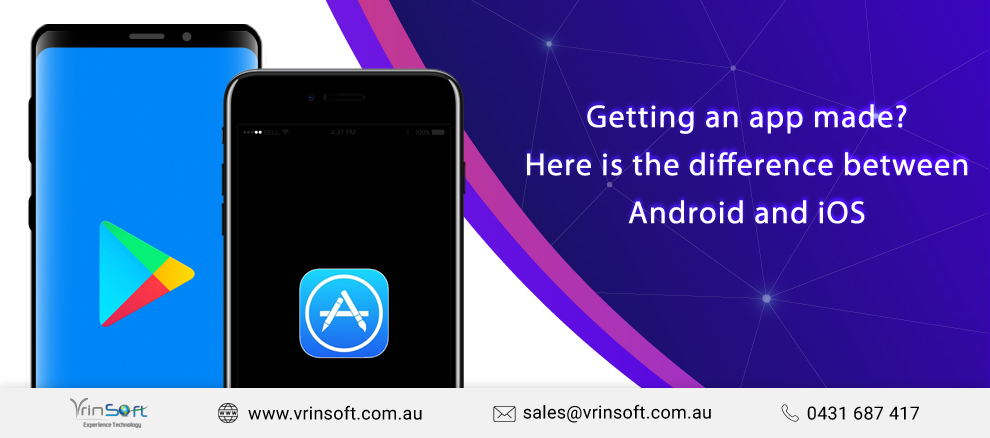 Let's start.
Statistics of each platform
Market Share
As we all are well aware, only Apple makes iPhones, while there are many large and small companies that make Android-based mobile phones. Those who use iPhones get exclusive updates whenever needed while competition between companies lowers the prices of Android phones. This has resulted in Android gaining a lion's share of the market with 75 per cent of all phones used in Android and 19 per cent used in iOS.
Operating System Version
With iOS devices, Apple ensures that you get the latest versions of iOS with the help of updates. This has ensured that 76 per cent of all Apple devices in the world have the latest iOS 11. On the other hand, Android updates are optional and not all Android devices support updates. Here is the current break up of Android users vs that of iOS users.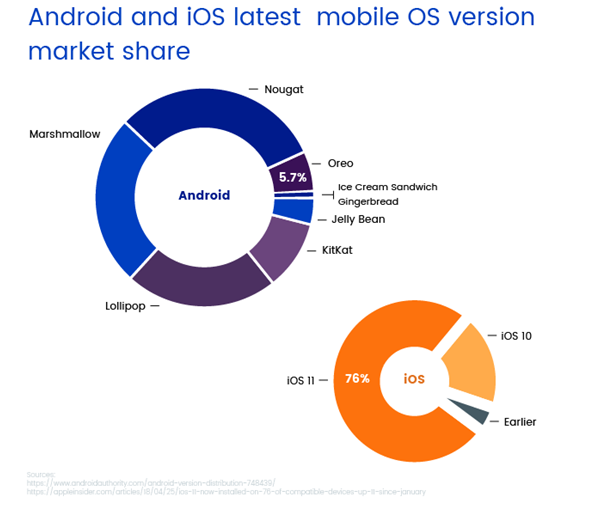 Loyalty to the Brand
iPhone users are extremely loyal to Apple. With Android, there is a lot of competition amongst companies for users, getting a loyal customer base is quite hard. However, some brands have ensured that they get loyal customers with a survey suggesting 72 per cent of Samsung users claiming they will always buy a Samsung phone and 56 per cent of Motorola phones saying the same for Motorola.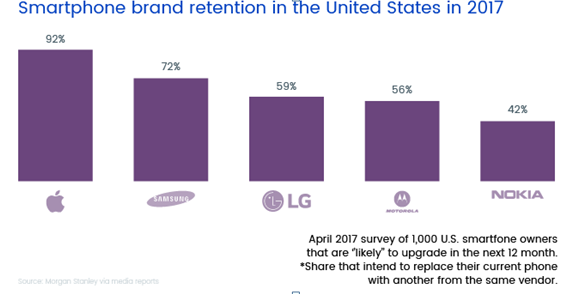 Complexity in Developing Apps
With Android and iOS, developing apps can be complicated based on a number of factors and also on the features that you want in the app. Let us discuss these factors in detail.
Compatibility with the Latest Technologies
For modern projects, you need to get your app developed in the latest technologies. You cannot develop your project in technologies that have become obsolete. Currently Kotlin and Swift are the latest technologies on which mobile apps are built.
With Kotlin, you can use numerous frameworks and libraries initially made for Java. This makes Java completely compatible with Kotlin. So much so, you can even switch programming languages in the code.
However, this cannot be said of Objective C and Swift. They aren't fully compatible with each other. For example, the Swift 2 version has a little compatibility which is not the case with Swift 3. This can make the entire development process a bit harder.
Device Fragmentation issues
To date, Apple has released a total of 18 iPhone models of which 14 are still in use. On the other hand, Android has numerous models from many companies, the App developer may need to develop apps that can support at least some of the models that are in use currently. Additionally, there also is the problem of many kinds of operating systems used concurrently. App developers need to make their apps compatible with the older versions of Android.
Publishing the App
Once the app is ready, you will need to test it. This is quite simple with the iPhone, but with Android devices, you may have to test the phone with multiple devices to ensure it is compatible with all. Then, once you have an app that is good to go, you can get it beta tested on both the App store as well as the Play store.
When you are ready to publish the whole app, you will need to pay USD 99/299 as an independent/company developer to get your app published on Apple's app store. With Android, you need to pay only USD 25 once and the app is approved within a few hours of publishing. However, Apple actually has a committee of real people who go through each app to ensure it meets the App Store's rigorous standards. Generally, this takes about a day.
A Few Last Words
For most businesses, making an app for their business is the only way forward. Though there are a few advantages with making an app with Android here and a few advantages in making an app with iOS there, overall App Development Melbourne and across Australia is done just as per client requirements.