The main aim of every businessman's online presence is to get the maximum number of conversions from their website and apps. However, this is easier said than done. Organic SEO is complimentary, while Pay Per Click is paid-this is the main difference. Staying at the top of Google's search rankings means you need to do a lot to ensure that you always stay ahead of the competition. But first things first, let us see what SEO and PPC mean.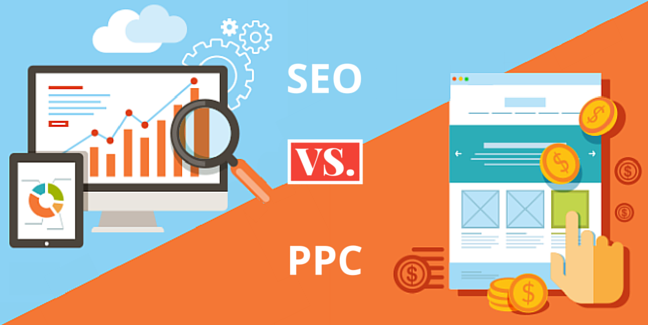 What is Organic SEO and Pay Per Click?
Search engines use a specific algorithm to rank web pages shown on every search request. These are displayed based on what is searched for and based on various factors like keywords, meta tags, and so on. To ensure that your business web page ranks first in search, you can do organic SEO without paying a dime. However, this can take a lot of time for the results to show.
On the other hand, pay Per Click, or PPC is a paid advertisement shown whenever someone searches for something specific on Google. This is shown at the top of the page ahead of the general search results.
Here is a point-by-point comparison of SEO with PPC.
Cost factor
As mentioned before, as organic SEO is free, you can get it done quickly by anyone who has expertise in it, while PPC can be done by yourself, but you need to know how to use it to the best of your advantage.
Monitoring
PPC will give you returns as long as you keep putting funds into it. You will always need to monitor your expenses in PPC and ensure that they are getting the funds they need. You can do this with the help of Pay Per Click Services.
On the other hand, getting organic SEO is done for the long term. It takes quite a lot of time to ensure that your web page comes up on the first page of the search results. You need to ensure that the SEO rankings are maintained by professionals with SEO Services in Melbourne who are experts in the field. Even if you are busy with other things, with organic SEO, your ranking on the search results can remain intact.
Wide Reach
Pay Per Click is a service that is largely restricted to Google. However, with organic SEO, you are there for the long term.
Those companies that are there in the search results are always seen as credible and genuine as opposed to those who use the pay per click route. With organic SEO, you can get in touch with the right people. It is the best way to connect with your target audience in the long run, while PPC is effective only for a short period of time.
You will need to use both SEO and PPC for your internet marketing campaign. However, they have to be used strategically based on your company's goals so that you can get the most out of them.