Top 5 reasons why you should trust Vrinsoft to build a Mobile app
Post date: 09, Jan 2020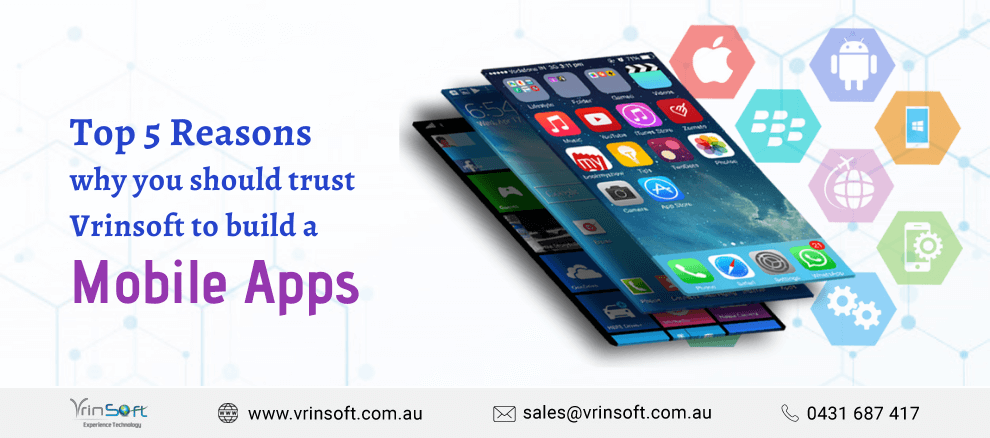 By developing mobile applications for mobile operating systems like Apple iOS, Android, and others, you develop more brand awareness and loyalty among your potential and existing customers. Many customers expect their favorite brand to have a mobile application which could make their experience and work easier. So, developing a mobile application is not only for standing ahead in your competitive business world but also to increase the customer experience to a good extent. If you are the one who is searching for the best mobile app development company Australia for your business or organization, Vrinsoft would be a life-saver. Here are the top 5 reasons why you should trust Vrinsoft to build a mobile app for your business.
Improve your customer experience by using Vrinsoft services:
The world has gone mobile and there is no denial in that phrase. Customers seek the help of mobile phones at first whenever they need something to be done to their business. So, having a mobile application handy will provide them all the necessary details that they want. With the mobile application, your customers can access your business from any part of the world at any time. Vrinsoft helps your business by developing a mobile application that will enhance your customer experience that is they help to create a strong customer relationship and place your business in your customer's pocket.
Experience better sales and services:
There is no doubt that many active internet users have been obsessed with social media. So, to improve your business you will have to be a part of their obsession. Integrating social features like comments, likes, in-app messaging features, etc will help your business to improve its social standing. Twitter and Facebook are the most commonly used social media, so having similar features in your mobile application will help your customers to discuss your various products and services. The mobile applications developed by Vrinsoft have improved the sales and services of many businesses. It has also changed the way how people buy and sell products. Because of this feature, Vrinsoft has become one of the trusted mobile app development companies in Australia.
Provide real-time rich data capture:
A mobile application will save your business from a slow process of collecting data and analyzing it. They help to capture information about customer preferences and actions on your application. This information will help you to provide personalized services to your customers' preferences. Vrinsoft mobile application services will provide the user the option to opt-in to a data program and explain to them that such an option is used to improve the customer experience. By creating a mobile application for your business, you can display your products and services easily on it. So, whenever they want to purchase, they can use your mobile application as a one-stop shopping place by sitting at the comfort of their living room. Whenever you change something in your app, like adding a product or service, you can just notify them and they would get a glimpse of your new product and service.
Mobile application boosts customer interest:

The feature of notifying your customers about the newly released products or services will tempt your customers' interest and make them spend more time in your app. Customer engagement is what you can create exactly with the mobile application for your business. Vrinsoft mobile application services will help your business to be in the hands of your customers at any time whenever they want.
Create a convenient app for your customers:
Mobile applications are much easier to handle than websites. Vrinsoft develops an application by considering usability as its prime factor. Also, they have provided the next level of usability to their customers. Flexibility is the other most important factor to be considered while creating a mobile application and Vrinsoft has clearly understood this factor.
Thus, considering the above-mentioned points, you can conclude that Vrinsoft is one of the best app development Australia companies. They provide quality service which will help you to take your business to the next level of success.
Tell us your Queries, We are Listening
Get In Touch
Estimations & Planning for Business Decisions